DESCRIPTION
Main Color: Black
Sub Colors: Green, Blue, Light Blue, Gray, Light Grey, Lime Green, etc..
Style: Triangle Pattern
Length: Mid-Calf
Size: One size fits most Men; Sock Size 10-13
Socks you might also like:
Lime Green Black Wedding Socks | Lime Green Black Groomsmen Socks
Socks in weddings
"We wore tan vest/pant combos and wanted something to pop…plus be fun! So the choice was logical, awesome socks! I google for socks and saw you guys! I loved everything I saw, great selection and great prices! I chose my socks and my best man's socks. My partner, Jose, chose his and his best man's socks. It was funny…he chose argyle for both of his and I chose stripes for both of mine! Everyone loved the socks! Friends of ours are getting married and we have recommended you guys for their socks! Thanks for helping make our wedding pop!" Paul and Jose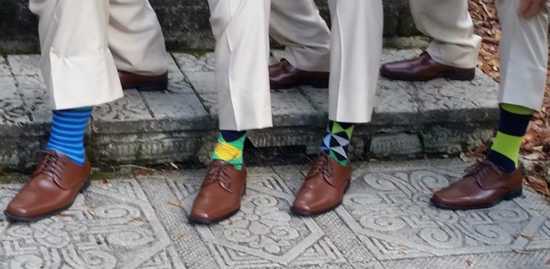 Customers who bought this product also purchased...